Thyroid Disorders Treatment Specialist in Los Banos, CA
Symptoms of thyroid disorders can vary depending on whether the thyroid is overactive or underactive. Common symptoms of thyroid diseases include weight loss, weight gain, rapid heartbeat, anxiety, fatigue, and more. Learn about thyroid disorders today, their warning signs, and the treatment options available. For more information, contact us today or book an appointment online. We are conveniently located at 1120 West I St Suite B, Los Banos, CA 93635.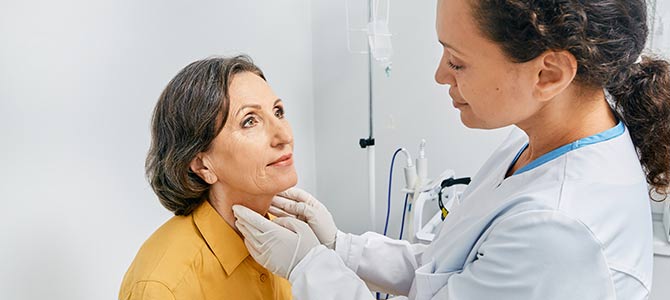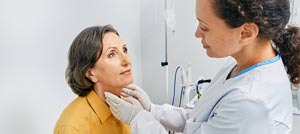 Table of Contents:
What causes thyroid problems?
What are the early warning signs of thyroid problems?
What is the most common thyroid disorder?
How can thyroid disease affect your mood?
What causes thyroid problems?

Thyroids are glands that produce hormones that influence the operation of various systems in the body. The hormones produced control vital functions of the body. Thyroid disease occurs when the thyroid creates too few or too many hormones. There are a variety of different categories of thyroid diseases, including thyroiditis, hypothyroidism, Hashimoto's thyroiditis, and hyperthyroidism. When a thyroid problem occurs, the entire body can be affected. Hyperthyroidism can be caused by the development of too much thyroid hormone. Hypothyroidism occurs when the body develops too little of the hormone. Both are serious conditions requiring medical attention.

The potential causes of thyroid problems are as varied as the problems themselves can be. Sometimes thyroid problems are caused by genetic disorders, iodine deficiency, cancerous tumors, non-cancerous lumps, medical treatment like thyroid surgery or radiation therapy, certain inflammation stemming from bacteria or viruses, some medications, autoimmune diseases that attack the thyroids, and more. Pregnancy can also sometimes create thyroid problems or exacerbate existing ones, potentially posing complications and dangers to the pregnancy.
What are the early warning signs of thyroid problems?

Many thyroid problems display early warning signs and symptoms that are similar to those indicative of other conditions. Individuals experiencing symptoms potentially relating to thyroid conditions will not be able to confirm the nature of their condition on their own and must seek the assistance of a medical professional for a proper diagnosis. Some early warning signs associated with a thyroid disorder include weight loss or weight gain, fatigue, increased or slowed heart rate, and sensitivity to cold or heat. Thyroid problems can have very serious consequences. Hypothyroidism, for instance, can create a variety of health problems like joint pain, obesity, heart disease, and infertility. It is important to seek out a medical professional to confirm the diagnosis of a thyroid problem and begin treatment to prevent the risk of additional complications.
What is the most common thyroid disorder?

Hypothyroidism is the most common form of thyroid disorder. Representing deficits, the word "hypo" indicates the thyroid gland is not producing a sufficient quantity of thyroid hormone. Identifying the symptoms of hypothyroidism and seeking immediate treatment is of the utmost importance to managing this disorder.

Hypothyroidism often displays itself with some of the following symptoms including fatigue, weight loss or trouble losing weight, loss of appetite, weakness, hair loss, dry hair, dry skin, muscle aches and cramps, cold sensitivity, depression, constipation, irritability, abnormal menstrual cycles, memory loss, decreased libido, and, in severe cases, it can cause an increase in tongue size, jaundice, and slowed speech. Every patient's experience with thyroid disorders will differ and some may experience different conditions to varying extents of severity than others.
How can thyroid disease affect your mood?

Thyroid disease can impact the mood in a myriad of ways, most often by causing depression or anxiety. The extent of mood changes typically aligns with the severity of the thyroid condition. The more serious the condition, the more drastic the mood changes. Hyperthyroidism may lead to irritability, restlessness, nervousness, and anxiety. While hypothyroidism tends to lead more to depression and varying levels of fatigue.

Patients with thyroid disease in Los Banos can seek treatment at our clinic. Los Banos Primary Care is a primary care clinic capable of treating thyroid disease and managing its symptoms. Patients can call or book an appointment online today to work with Los Banos Primary Care's medical professionals to develop a custom treatment plan to suit their specific needs and take control of their thyroid condition. If you think you have a thyroid condition or have questions, reach out to our team of medical professionals through our website today by calling us or booking an appointment online. We are conveniently located at 1120 West I St Suite B, Los Banos, CA 93635. We serve patients from Los Banos CA, Volta CA, Santa Nella CA, and Trent CA. We look forward to serving you!