Questions To Ask Your Primary Care Doctor
Los Banos Primary Care offers top primary care services to help with day-to-day health care needs. If you have questions about primary care, we have got all the answers for you! For more information

contact us

today or

book an appointment

online. We are conveniently located at

1120 West I St Suite B, Los Banos, CA 93635

.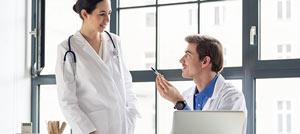 Table of Contents:
Why is primary care important?
What are the main characteristics of primary care?
What is included in primary health care?
Why is primary care important?

A primary care physician is crucial to helping an individual navigate to good health and stay healthy; preventing illnesses and diseases by identifying risk factors; coordinating and managing chronic disease care for longevity and a better quality of life.

The main role of primary health care is to provide comprehensive and continuous care to the patients. It also helps in making the patient available with the various social welfare and public health services initiated by the governing bodies and other organizations. The other major role of a primary health care center is to offer high-quality health and social services to the underprivileged sections of society.

Here are five reasons why this type of care is critical:

It's a one-stop-shop for everything
To access a wide range of services, you only need to book one doctor's appointment.

They are capable of directing you in the right direction
Not only can your primary care provider make referrals, but they can also assist you coordinate information with your other healthcare providers.

It's the most effective way to deal with existing health problems
Routine tests will be scheduled by your primary care physician so that you have the most up-to-date information about your problems and so that you can keep on track with taking your medications.

They aid in the detection of health issues before they become serious
It may seem inconvenient to have your weight, blood pressure, or ears checked every time you visit your primary care provider, but these routine exams are the most effective approach to detect a health problem early on. This means you can begin treatment right away, potentially saving you a trip to the hospital if the condition becomes serious.

They are the ones who are closest to you
By making regular meetings with your primary care physician over time, you'll feel more at ease discussing your health and asking the necessary questions to ensure your needs are fulfilled.
What are the main characteristics of primary care?

The main characteristics of primary care are a focus on patient/family relations, self-reliance and participation; community engagement and participation; health workers collaborating in interdisciplinary teams; proactive preventative measures; integration and coordination of services; accessibility; better management of chronic conditions; localized set of choices; sustainability; and multi-sector alignment and involvement.

The majority of a person's health needs are met through primary health care throughout their lives. This encompasses physical, mental, and social well-being, and it focuses on people rather than diseases. Primary health care is a holistic approach to health that includes illness prevention, treatment, rehabilitation, and palliative care.

Individuals, families, and communities are empowered to take charge of their own health by addressing the larger determinants of health through multisectoral policy and action.
Primary health care addresses not only individual and family health requirements, but also the broader issue of public health and the needs of designated groups, by providing care in and through the community.
What is included in primary health care?

Primary care encompasses a wide range of healthcare services.

One aspect of primary care is concerned with wellness and prevention. To keep you healthy and disease-free, your primary care physician will most likely:

• Examine your medical history carefully so that they can determine what risk factors you may face
• Provide vaccinations to keep you from getting sick
• Perform screenings in order to detect health issues early
• Advise you on lifestyle changes you can make to avoid future illness

Acute care is another aspect of primary care. These are issues or injuries that may occur unexpectedly and usually have no long-term impact on your health.

Los Banos primary care offers the following services in Los Banos and surrounding areas:

• Geriatric care
• Women's health
• Men's health
• Pediatric care
• Preventive health care
• Diabetes management
• Hormone therapy
• Hypertension treatment
• High cholesterol treatment
• Osteoarthritis treatment
• Osteoporosis treatment
• Dementia treatment
• Balance problems treatment
• Incontinence of urine treatment
• Hypothyroidism treatment
• Fatigue treatment
• Low Back Pain treatment
• Asthma treatment
• COPD treatment
• Bronchitis treatment
• Chest pain treatment
• Pneumonia treatment
• Influenza treatment
• Anxiety treatment
• Depression treatment
• Migraine treatment
• Weight management
• Medication management
• Adult immunizations

Primary care also promotes effective communication with patients and encourages the role of the patient as a partner in health care. If you or someone you know is looking for primary health care, please contact our office to get in touch with a specialist. For more information call us today or book an appointment online. We are conveniently located at 1120 West I St Suite B, Los Banos, CA 93635. We serve patients from Los Banos CA, South Dos Palos CA, Dos Palos CA, Volta CA, Ingomar CA, and Trent CA.